Macau's best art galleries can be defined in a variety of ways, as it is a subjective measure based on individual preferences and opinions. However, generally speaking, a best art gallery might be one that:
Showcases a diverse range of high-quality artwork from established and emerging artists.
Provides a welcoming and accessible atmosphere that allows visitors to fully engage with the artwork on display.
Offers a well-curated and thought-provoking selection of exhibitions and programming that inspire and challenge viewers.
Has a knowledgeable and helpful staff that can provide information and context about the artwork and artists.
Maintains a strong reputation within the local and wider art community, and is recognized for its contributions to the arts through awards, publications, and collaborations.
Ultimately, a best art gallery is one that consistently delivers an exceptional experience for its visitors and fosters a deep appreciation for the visual arts.
10 Fantasia
10 Fantasia is a hidden gem in St. Lazarus Parish that was founded in 2008. It has two exhibition halls and ten showrooms and proudly promotes the products of Macau's cultural, artistic, and creative industries. Take a stroll around the neighborhood to explore the works of local artists. Scriptwriting, photography, video and movie production, sculpting, painting, and other creative courses are available. As the city's actual art hub, it is continuously organizing animation parties, role play events, artist gatherings, and concerts.


---
Macau Art Garden
Macau Art Garden is the city's first structure dedicated to the creation and presentation of local art. Oil paintings, Chinese paintings, prints, ceramics, sculptures, and photography, among other materials created by talented local artists, are also available.


---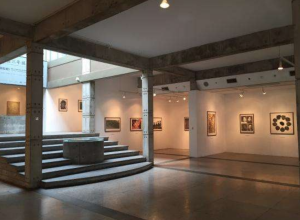 Tap Seac Gallery
The Tap Seac Gallery has evolved from strength to strength in displaying arts and culture in the public arena, a monument to the ingenuity of the local population. The Tap Seac Gallery, run by the Macau Special Administrative Regional Government's Cultural Institute, offers visual art exhibitions and supports a variety of cultural events.


---
Taipa Village Art Space
This small gallery, a smart addition to the Taipa Village charm, is all about fostering local talent in the art business. Tucked away in a traditional shophouse in the lovely landscape of Taipa Village, the gallery acts as a cultural pilgrimage for tourists looking to escape the rush and bustle of the city and immerse themselves in this renowned destination's historic and cultural beauty.


---
Ox Warehouse
The "Old Ladies' House Art Space" was the previous name for Ox Warehouse. It was created in 2002 and has since thrived as a private non-profit art association. They arrange exhibitions in a variety of mediums such as painting, sculpture, poster design, installation, sketching, and others on a regular basis in order to create an experimental and exchange platform for local contemporary arts. It also provides sketching, music, and other artistic programs for adults and children. The Ox Warehouse accentuates the charming old architecture and includes a small library, art information corner, CD corner, and a cafe where visitors can relax before continuing their exploring.


---
At Light
The Government's Headquarters, a bright pink structure directly in front of Nam Van Lakes, hides this adorable and little art gallery. At Light provides a beautiful area for art and meetings, and the organizers encourage local artists to exhibit their work. The passive voice in the original sentence is "is hidden," which has been changed to the active voice "hides." The gallery shares the area with Fika Maison, a great coffee shop that serves a variety of beverages.

---
Iaohin Gallery
iAOHiN Gallery is one of Macau's first private art galleries. The brand as a whole supports a wide range of seminars, talks, concerts, and special events. Its goal remains to exhibit the different artworks of established and young, local and worldwide artists. It seeks to arouse personal ties to ideas, civilizations, and art.


---
Blanc Art
Blanc Art, a creative paradise in Macau, opened in 2013. Feel the positive energy as you enter the exhibition hall. Explore exhibitions of established and new artists from Asia, Europe, and the United States. Blanc Art's mission is to promote and foster artistic talent from throughout the world.
"If you're looking for a great online casino experience, be sure to check out our recommended site at EMPIRE777 for all the latest games and big bonuses!"