Malaysian Culture is as rich as Southeast Asia due to its long history. What are some of the things you didn't know about Malaysian Culture? What are some of the culture and traditions you experienced living in this country? You'll be surprised by how funny and interesting they can be both at the same time. Even the less popular ones are sure to make you and your Malaysian friends laugh!
Here's 10 Things You Didn't Know About Malaysian Culture:
1. Nothing is more celebrated than Milo
Everyone you know and even their mother's mother absolutely loves Milo. So why is Milo so popular in Malaysia? Well, it has something to do with how the drink was first introduced to the country.
Back in 1950, it was marketed as a food-drink for athletes to keep them energized. Milo vans in schools then gave away free Milo drinks to students in major sports events and school sports days. Almost everyone has had at least one drink of Milo in their life.
Nowadays, Malaysian food courts and restaurants serve many variations of the famous drink. There's cold, hot, jelly, and even dinosaur!
2. You get used to Rain
Malaysian storms can get quite intense, so compared to other forms of rain, everything else pales in comparison. What may be a storm to foreigners, can just be rain for us. We're so cool about rain that even fellow Malaysians are making their own culture of betting on whether or not it rains!
Through it all, when the rain gets strong we do what every other Malaysian does: hide inside their many shopping malls! Whether you're sightseeing in Petronas Towers or playing in Genting Highlands, there's plenty of accessible malls you can easily go to.
3. English is widely-used
As mentioned earlier, Malaysia used to be occupied by the British for over 100 years. What's more, we're still part of the Commonwealth since 1957 'til today! So it's no secret why we're familiar with our former-colonizer's language.
The upside to this is that tourists will not need to be scared about the language barrier when they do come to visit. We understand, can speak and even write English adequately. There's even a mish-mash of both English and Malay called Manglish.
4. Malaysians are Honest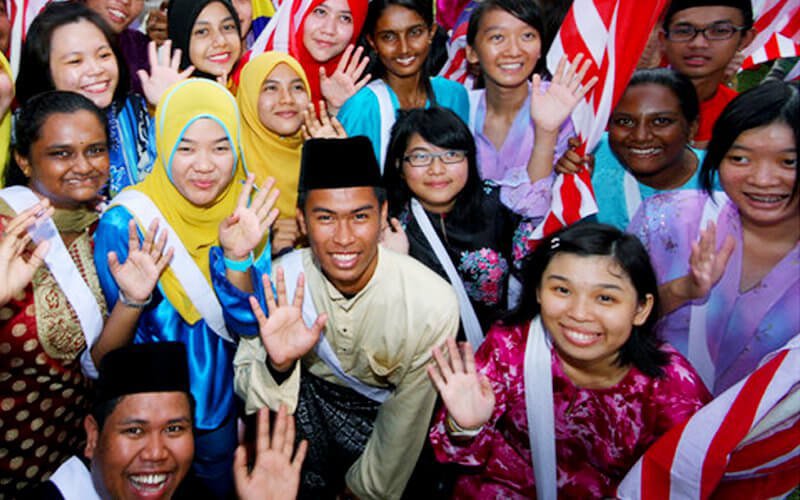 We Malaysian people are honest in nature. Food establishments won't try to charge you extra just because you are a tourist. If you lose some things or leave them unattended in public places, you can be sure to get them back, or not get them taken in the first place.
5. Eat with your Hands–the right one!
Like our other South-east Asian neighbors, Malaysian people have a culture of eating with our hands. In fact, some say that the food actually tastes better! But be careful. Always eat with the right hand: the right hand! Eating with your left hand is frowned upon as it is generally thought to be used for less-savory things. Do not pass objects with your left hand either.
6. Taxi Fares aren't a thing
The taxi-situation isn't a lot better in this side of the world, sadly. Although the taxis are officially "bermeter" or metered, many of the Malaysian drivers refuse to use them. The difference lies between budget taxis and executive taxis.
Budget taxis might agree to using the metered fare, but this isn't always a guarantee. Executive taxis, on the other hand, are a lot more expensive because they can accommodate a slightly larger amount of passengers and luggage. Their flag-down rate is double that of a budget taxi's, and their per kilometer fare is also twice as much as their cheaper counterparts.
Getting a fair price for your taxi fare has been so difficult, that people started resorting to so many other systems like the coupon fare and taxi booking applications. Malaysians usually just take public transportation, or haggle the drivers until they agree to using the meter.
7. You haven't tasted food this good
Malaysia is culturally-rich due to its long history and racially-diverse population. So it's no secret why our food is just so good. Our cuisine is a mix of many cultures and races, with Nyonya dishes (blending of Chinese and Malay tastes), and mamak food (merging of Indian and Malay).
There's no doubt about it, Malaysian food is the epitome of fusion food.
8. Culturally-diverse People
Countries with multiple nationalities coming together in one homeland make up for the most diverse cultures in the world. Not only is there a huge population of Muslims in Malaysia–there are also many Indian and Chinese communities spread all throughout its lands.
This makes for many traditions. Say, for example, betting. The Chinese and Indian communities both love betting and gambling. But because of the Shariah Laws though, it's strictly prohibited. That doesn't seem to stop nor discourage other Malaysians though.
In fact, Genting Highlands is one of the most prestigious casinos in the world, and it's located in Malaysia, a country where gambling is supposedly banned for its majority population (Muslims). These days though, the laws have become a bit more lax, so the Indian and Chinese communities who love to gamble, can in a more open environment. Amazingly, Malaysians love playing and gambling in online casinos like EMPIRE777! It's one of the top and trusted online casinos in Malaysia that offer great casino games, good bonuses, and superb security.
9. Everyone loves to bet
Again, gambling is part of Malaysian Culture despite strict laws against it. It's said that we Malaysians bet on almost everything. Things like football, badminton, and even horse racing. Even whether it's going to rain or not!
For us Malaysians (and our other neighboring Asian countries), gambling is more than just a game. For us, it is a form of social-bonding with our communities. That's why despite banning gambling for its majority Muslim population, betting is still alive and well, practiced all over the country. Genting Highlands is still one of the biggest go-to spots in the country. Many Malaysians still love to play online casino games from online casinos like EMPIRE777, and more.
10. Malaysians also love social media
With the sudden rise of internet and smartphones, Malaysians have also been enamored with the wonders of social media. Research firm TNS ranked Malaysia as the most e-social nationality on the internet, with an average of 233 friends on the web. As of 2019, a whopping 78% of the population actually use social media, with 76.2% of them all using Facebook. This is large in comparison to the other social media sites, with Instagram only coming in second at a small 11.16%.
In general, they are charmed with the many things one can do on the internet, on a portable device as accessible as the smartphone. Recently, a lot of Malaysians have turned to mobile gaming as a form of entertainment. They love playing battle arena games like Mobile Legends, PUBG and Ragnarok. They even resort to mobile games as an alternative means of earning money, since many are playing games that pay real money, such as online casino games which give out jackpots and overall huge payouts.
Do you agree with these Top 10 examples of Malaysian Culture? If you've lived here long enough, you'll surely notice this among fellow Malaysians!