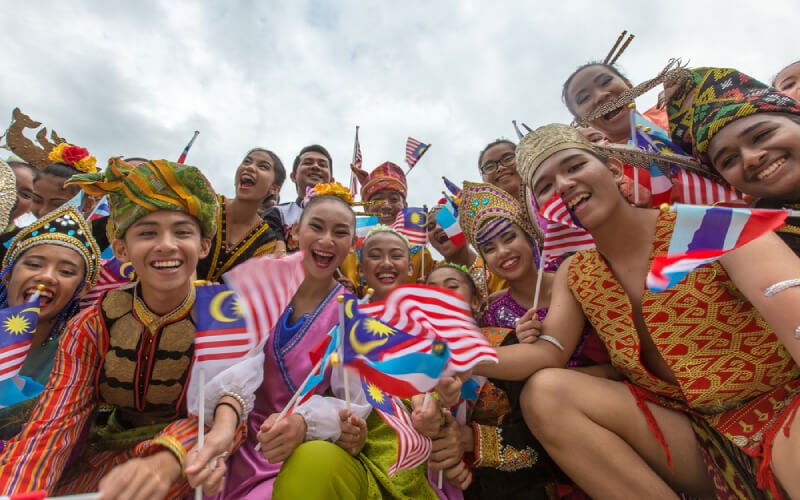 What we Malaysians do to pass the time says a lot about the country itself. Both the old and more modern past times Malaysians love doing reflects what makes Malaysian culture. We love sports, eating delicious local food and playing games (even gambling!). For sure, you can't say that you're a Malaysian if you haven't done any of these activities, or at least heard of it. Here's a list of the activities that are at the heart of what it means to be Malaysian.
Malaysian Culture 101: Here's our Favorite Past Times
1. Watching Sports Games
Malaysians are obsessed with sports. To be more specific, we absolutely love watching sports games. We'll watch it anywhere, anytime. Whether it be 3 AM at a Mamak or with family in front of the TV. Catch us praying that our National teams and players win a golden medal. Should this occur, there is a possibility that it could be designated as a National Holiday.
Although Malaysians may experience divisions based on race or politics, there is a notable sense of unity when it comes to supporting badminton legend Datuk Lee Chong Wei during significant badminton matches.
In fact, sports betting is extremely popular among us Malaysians. It's like combining two of the things that we love the most: watching sports and betting! Sports betting is a form of gambling, but it has never stopped others from enjoying a good game and earning some winnings at the same time.
It does make you think. Why can't we enjoy watching Manchester United vs. Liverpool while making an extra ringgit on the side?
2. Shopping
Shopping must be part of the Malaysian spirit. Pasar Malam or Night Markets are extremely well-loved and visited by hundreds if not thousands of Malaysians everyday.
We also have a lot of shopping malls that we can't really resist going to. 4 of the biggest malls in the world are in Malaysia! Vacation destinations like Kuala Lumpur, Petronas Towers or Genting Highlands all have shopping malls!
And like a gift from the heavens, shopping has been made more accessible thanks to technology. They say Malaysians shop online even during office hours! Now that's dedication.
3. Betting
Malaysia is a multi-cultural and multi-racial country, with populations of different ethnicities. Gambling is illegal because of the majority Muslim population's Sharia Laws. But the equally many Chinese and Indian communities love a good gamble or two. In fact, police are helpless against small betting activities that have become part of Malaysian culture and tradition.
We Malaysians love to bet over almost anything–it's fun! It's a way of socializing with our friends and family. It's pretty harmless too. Even small towns in the provincial areas of Malaysia bet on the smallest things like whether or not it's going to rain, how long the rain will last and more.
Horse-race betting and sports betting is also at large in Malaysia. Who will finish first, last? What will the score be? Can Messi make another hat trick? Bet as much ringgit as you want! It's all fun and games anyway.
This is the same reason why Malaysians love playing in top online casinos like EMPIRE777. There's nothing to worry about since it's safe and legal. You can play their games in mobile since that's a big plus for us Malaysians. They have the most entertaining online casino games that pay real money.
4. Traditional Games and Kites
Asides from online casino games, Malaysians also love playing traditional Malaysian games like Gasing and Sepak Manggis to flying and designing Wau.
Wau, a traditional kite flown after the rice harvest season, is popular in the East Coast state of Kelantan, Malaysia. People recognize Wau for their substantial size, with some reaching dimensions as large as humans, spanning 3.5 meters from head to tail. Additionally, they are celebrated for their elaborate designs and vibrant colors. The name "Wau" is derived from its resemblance to the Arabic letter "wow." In Kelantan, it is primarily men who engage in flying Wau Bulan.
Another large toy-artifact is the Gasing. It's a giant spinning top that weighs a whopping 5 kg or 10 lbs! It's usually as large as a whole dinner plate. Similar to Wau, the time that it's commonly played is related with the rice harvest season. But unlike Wau, it's played before and not after the said season. Because of its size and weight, playing Gasing requires skill. Players must be strong and coordinated enough to be able to handle the large spinning top. Players set the Gasing spinning using a rope to release and propel it. They then scoop it off the ground using a wooden bat with a center slit–all while it's still spinning! They will move it to a low post with a metal holder, with a hole that lets it spin until it loses its momentum.
On the Eastern part of Malaysia, the Bajauh and Iranun Men of Sabah engage in the enjoyable outdoor game called Sepak Manggis. This game entails a bunga manggis floral carrier suspended from a 10-meter tall pole, which participants within a circle must attempt to strike while facing each other. Players who achieve victory receive rewards such as currency, presents, or items that are consumable.
5. Driving for Food
Malaysians love local food so much, we'll drive long trips just so we could go to delicious food spots! It's not even weird. It's been a part of Malaysian culture at this point. That's why it's not weird for locals in Kuala Lumpur to drive all the way to Genting Highlands if it means they'll get a chance to eat delicious food and get away from the sweltering heat.
So, do you agree with our list? Share this article to friends and family if you do! Ask them which of these they're familiar with or have already done in the past. Which of the more traditional past times will you consider doing? It's fun being Malaysian!